Yoga

FX

International Yoga Teaching Academy is thrilled to announce that Komang Sukerni has been appointed as our Balinese Yoga Teacher Training Lead Trainer
Yoga

FX

has a reputation of sourcing the most suitable and most qualified local and International Teacher's to become part of our Yoga Teacher Training Academy here in beautiful Bali.
Originally born in Bali, Komang Sukerni teaches yoga for healing a combination of asana, pranayama and meditation to her students in either Indonesian or English language.
Komang integrates the knowledge that she has received from her teacher INTO HER OWN TEACHINGS.
Komang Holds:
Kapha Yoga Teacher Training 30 hours
Markandeya Yoga Teacher Training 200 hours
Yoga MIX Yoga Teacher Training Module 1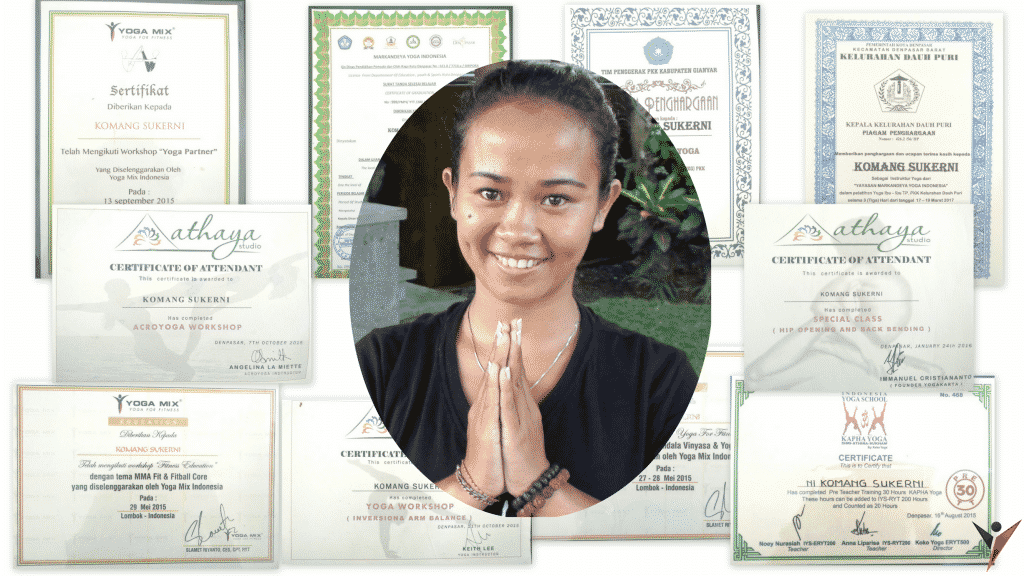 Yoga has always been there for Komang…
…no matter her external circumstances, or state of mind. Yoga has carried her through, and lifted her up.✨
Komang truly believes that yoga can heal our wounds – physical, mental, and emotional. Yoga is a safe space to be yourself and yoga will appear in your life without judgment. Helping you to result any doubts, fears, or expectations.
Past accomplishments include:
🔴Invited by Bali TV to teach on camera and participate in Talkshows
🔵Teaching Yoga at Central Balinese Government events
🔴Teaching Yoga at Balinese Local Schools
🔵Villas, Retreats, Hotels
🔴Several Major Indonesian Corporate Institutions Offices in Bali

Komang believes that yoga has something to offer every single person in every stage of their lives
"We all come to yoga with different needs and goals for the practice, which will likely change and grow over time depending on our life circumstances. Sometimes we may not even know what our goals are, but yoga will still be there guiding us."☀
Komang, during her yoga class takes an in depth look at the following 9 forms of yoga flow. Komang is able to incorporate these yoga flows and tailor her yoga class for the specific needs of her yoga student. THE NINE FLOWS OF YOGA include the following:
🇦🇨Jnana Yoga

🇦🇪Karma Yoga
🇦🇸Bhakti Yoga
🇧🇭Yantra Yoga
🇧🇷Tantra Yoga
🇧🇼Spells Yoga
🇨🇦Kundalini Yoga
🇧🇳Hatha Yoga
🇧🇧King of Yoga
The yoga Community is varied-ranging from the simple to the advanced postures
Komang recommends that can practice yoga. From children to seniors and pregnant woman, all can practice yoga.
It is through asanas and meditation that Komang will assist her students to tap into their sense of inner calm and self-acceptance that yoga will deliver.🧘‍♂️
"Everything suits your needs and abilities"
Komang encourages her students to break through their perceived limitations both on and off the mat.
She also recommends that anyone who practices yoga should incorporate the sweet discomfort principle. This principle is the smooth transition between comfortable and uncomfortable during your yoga postures.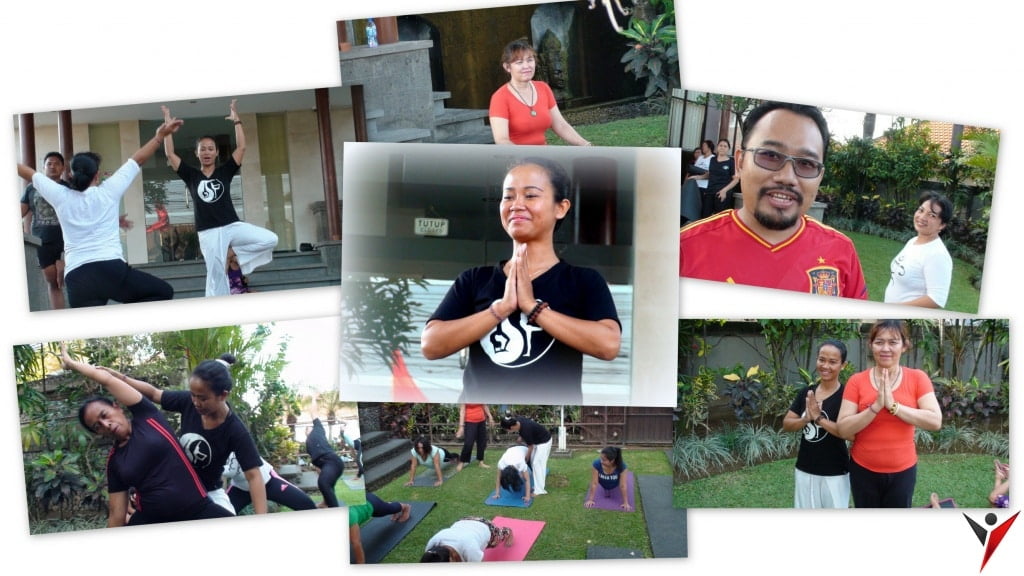 DURING YOUR YOGA PRACTICE if your body continues to resist then your tension will increase. Yoga practice does not mean that you are forcing your body over your natural limit.
Yoga practice is about engaging your mind with your body, and accepting when your body is ready to release, providing you with extra millimeters of stretch, flexibility, and relaxation.👍
For beginners it takes a yogi or yoga teacher as a guide
A certified registered and experienced yoga teacher will provide for beginners to their first few yoga classes a safe environment, a supportive environment and gentle motivation during their introduction process to their yoga practice.
An experience Certified Yoga Teacher will also provide the more advanced yoga practitioner with knowledge, education and postures alignments, while at the same time be imparting their knowledge of the many benefits that yoga can provide including benefits for the mind, body and spirit . 🧘‍♀️
Watch Yoga

FX 

 Dr Sumit Sharma our Yoga Anatomy Specialist. CLICK HERE to read full article
Some of the benefits of practicing yoga :
✅Improving the work function of the endocrine glands in the body
✅Increasing blood circulation to all cells of the body and brain
✅Forming a good body posture
✅Makes the muscles more flexible and strong
✅Increases lung capacity when breathing
✅Removes toxins from the body.
✅Slows aging and purifies the central nerve found in the spine
✅Reduces body, mind and mental tension and stress
Komang's passion as a Certified Yoga Teacher is to serve and help each one of her students accomplish whatever he or she is seeking. 
Komang's guiding light is to help students discover the many benefits that yoga has to offers
The practicing of yoga will provide us all the ability to uncover and embrace our true selves. The practice of yoga will GUIDE US ALL to our true authentic nature, which is to be healthy, radiant, blissful, and loving beings.
Yoga

FX

International Yoga Teacher Training Academy
is Fully Certified and Credentialed🧘‍♀️

Yoga

FX

is absolutely thrilled to appoint Komang Sukerni as our lead Yoga Teacher Trainer for here in Beautiful Bali.
It is Komang's professional attitude, her determination and her uncompromising mental strength that will be a tremendous asset for Yoga

FX

Bali. Komang's many local Balinese yoga students will also be tremendously happy and enthusiastic about Komang's new appointment.
Komang has clearly demonstrated through her VAST YOGA TEACHING EXPERIENCES and her knowledge, and her many educational credentials that she is now ready to embark upon the next phase of her yoga journey.
Komang is genuinely enthusiastic and motivated to help and share her yoga experiences and knowledge with all yoga students and members of the local community that potentially may have the interest, the passion and the desire themselves to become Certified Yoga Teachers.
Komang stands ready to answer any questionsand offer any advice and assistance to all of her local Balinese and Indonesian community wanting to explore the many benefits of becoming a Certified Yoga Teacher.
Up until now becoming a student of a Yoga Teacher Training school in Bali has been far beyond the reach of locals due to the MASSIVE COST that yoga teacher training schools in Bali are charging.😔
Yoga

FX

Bali together with Komang are absolutely committed to changing this and we are very proud and honored to announce that Yoga

FX

International Yoga Teacher Training Academy will soon be offering…
 …A LOCALS ONLY FULLY CERTIFIED INTERNATIONAL RYT 200 HOURS YOGA TEACHER TRAINING COURSE IN BALI

Course Inclusions:
WHAT'S INCLUDED in my Yoga Teacher Training Course
 International Yoga Teaching Certificate
 Yoga Alliance Certified Course
 200 Pages Lifetime Yoga Manual
Yoga Teacher Training Workbook
Yoga Dialogue Class Keyword
Anatomy, Physiology and Alignment Workshop
Yoga Class Teaching Tips, Trick and Technique From Komang
Starts Monday 28th January-20 days only 9 spots AVAILABLE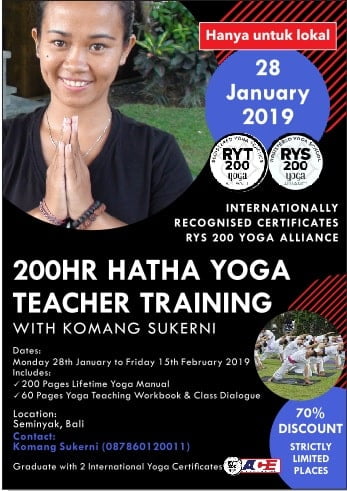 Please ask Komang for details
At a price that will be designed to fit the local communities budget desires.
Please Inquire now with Komang about this
VERY SPECIAL LOCALS ONLY FULLY CERTIFIED INTERNATIONAL RYT 200 HOURS YOGA TEACHER TRAINING COURSE IN BALI
Starts Monday 28th January-20 days only 9 spots AVAILABLE
Please ask Komang for details

Yoga

FX

 Yoga Teacher Training in Seminyak is very proud and honored to have Komang as part of our Yoga Teacher Training Faculty. Komang's knowledge, enthusiasm, professionalism and commitment to her class are absolutely NOT TO BE MISSED ❗
We look forward to seeing you soon on one of our Yoga Teacher Training's here in Bali
To fall is to be human to get back up and keep going is Yoga
EXCLUSIVE