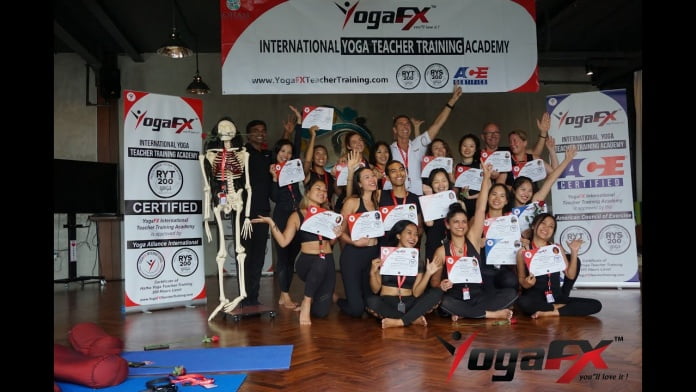 Here Are Five Reasons You May Benefit By Joining Our Yoga

FX

Yoga Teacher Training in Bali
Even if you don't want to teach:
1. Alignment.
In a YogaF

X

 Yoga Teacher Training Course, there is much more time than you would normally have, for you to learn about the alignment aspect of yoga, and improve your current posture form.🧘‍♂️
ALIGNMENT AND GOOD FORM are critical to ensure that your yoga practice is safe and therefore sustainable. In our YogaFX

Yoga

Teacher Training, there's more of an emphasis on safe posture practices, and you'll have plenty of time to ask questions.
2. To understand the anatomical, physiological aspects and the benefits of each yoga pose.
Yoga differs from other physical exercises because each pose has a certain effect on the body, be it physical or energetic. During our 200 hour RYT Teacher Training Course we will go through in detail all of the sequence postures, in our posture clinics, lectures, and during your classes.
THIS WILL HELP you will gain a deeper understanding of the function of the poses.
You will learn how to better understand each posture and how to use them in helping the body achieve optimal health. And, most importantly, the contraindications towards each pose.
This is important because without PROPER KNOWLEDGE of the poses, we can unknowingly do more harm than good to our bodies.
3. Understand the philosophical parts of yoga.
YOGA POSES are just one limb of the 8 Limbs of Yoga. We will in detail delve in to the philosophy of yoga. The bigger parts of yoga, the other 7 limbs, have to do with life, and how we as individuals relate to it. You will come to learn about all this through the Yoga Sutras of Patanjali.
4. Immerse yourself in the yoga experience.
THIS IS A VERY SPECIAL TIME in your life. With the demands of modern living, you have at most one to three hours weekly to commit to your yoga practice. During our Yoga

FX

 Teacher Training Course in Bali, you will have the chance to embrace yoga all day, every day and meet great people along the way. You'll love it.😍
5. It's an opportunity to dive deep into yourself.
All the above combined will make you question your thoughts and belief systems. You will begin to wonder if you've been living your life to the fullest, and what changes would you like to see in the future.
During your time on the yoga retreat, healthy conflicts may arise, things that have been long buried deep within you. It might be the PERFECT OPPORTUNITY for you to go deeper in to your own self-discovery, while in a safe, supportive and loving environment.❤
So as you can see we have only covered just five of the many wonderful benefits for you to join our yoga teacher training course in beautiful Bali, even if at the moment you don't feel that you want to become a yoga teacher.
Our course is very professionally-oriented and for your OWN PERSONAL BENEFIT a 100% commitment to the process is beneficial.
We have had many students come for personal development in the past, and many surprised themselves when they discovered that they had a real passion for teaching—and many are now working professionally.👍
So you never know
We haven't even talked about it being a fantastic opportunity for you to not only for you to join in all of the above, but just to visit Bali alone will be a magical experience!🌟
For More FAQs and Our June Main Event CLICK HERE
Sometimes the places that you think you are meant to be in. Is not actually the place you are supposed to be in.
EXCLUSIVE