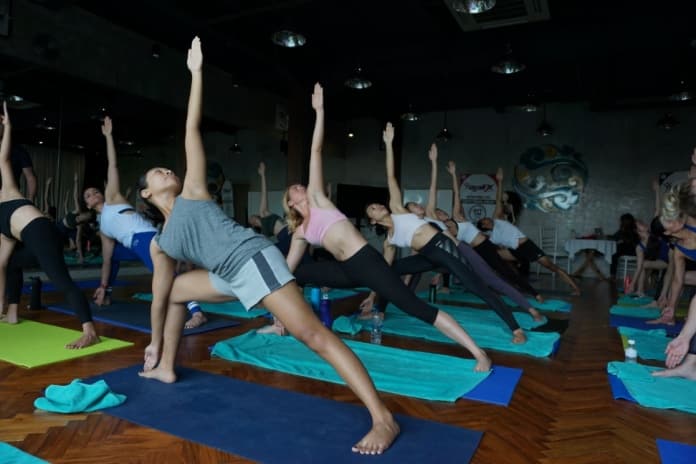 Yoga Sequences vary sometimes from class to class.
Different shapes and sizes Yoga Sequences "A Precise Series of Yoga Poses Done in Sequential Order"
The World's Most Popular yoga classes by far and so, therefore, the World's-Most-Popular yoga classes consist of a precise series of yoga poses done in sequential order. The world-most-popular yoga series are :
?Ashtanga Yoga primary series
Other yoga classes such as Iyengar, Yin, and Vinyasa to name a few, have their own ideas about how to sequence a yoga practice.
For Example, Holding Postures for Up To 5 minutes.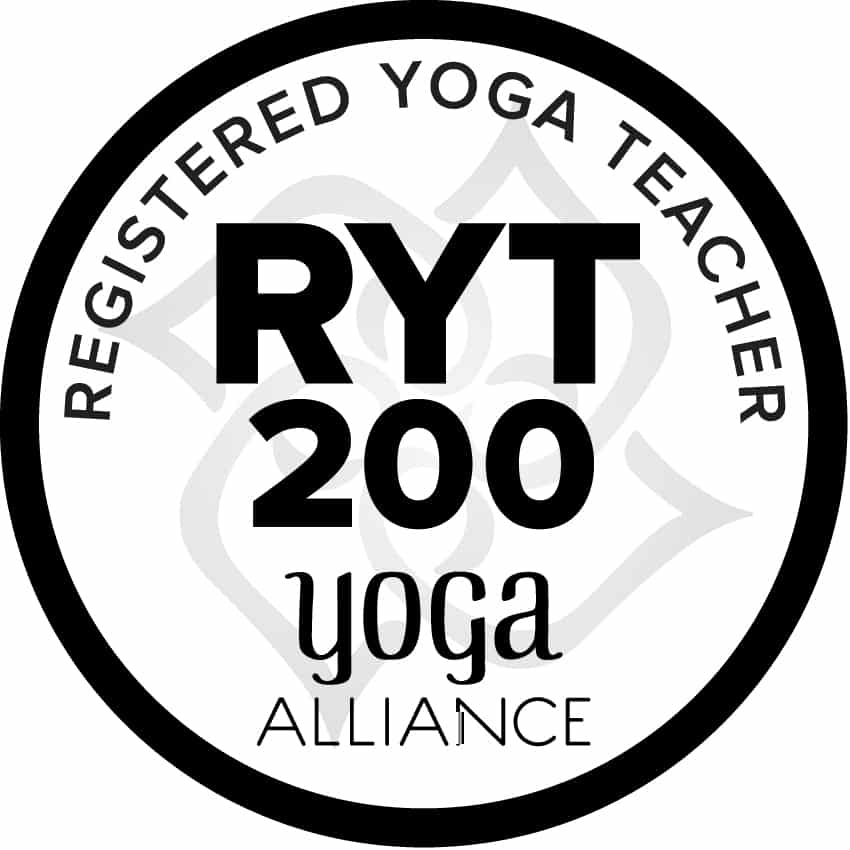 In Vinyasa yoga classes, students coordinate movement with breath to flow from one pose to the next. Of course, all yoga series follow this movement.
This precise series of poses are done in sequential order
In Iyengar yoga classes, poses are held for long periods and often modified with props. Iyengar is a bit different from other series.
All Of The Above Are Hatha Yoga Sequences. 
The most popular yoga sequences are linear.
This simply put means, that one posture follows another in a logical step-by-step direction.
Moving through the series one by one, from less challenging to more challenging and back to less challenging.
In general, a sequence like this opens with pranayama (breathing), intensifies to more challenging postures Trikonasana (Triangle Pose), slows to cooling postures, and ends with relaxation (Corpse Pose).
Besides knowing how to connect the poses, equally as important is knowing how and when to counter the poses.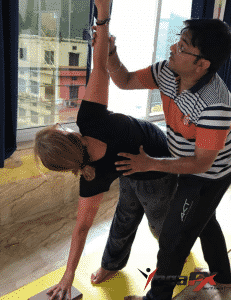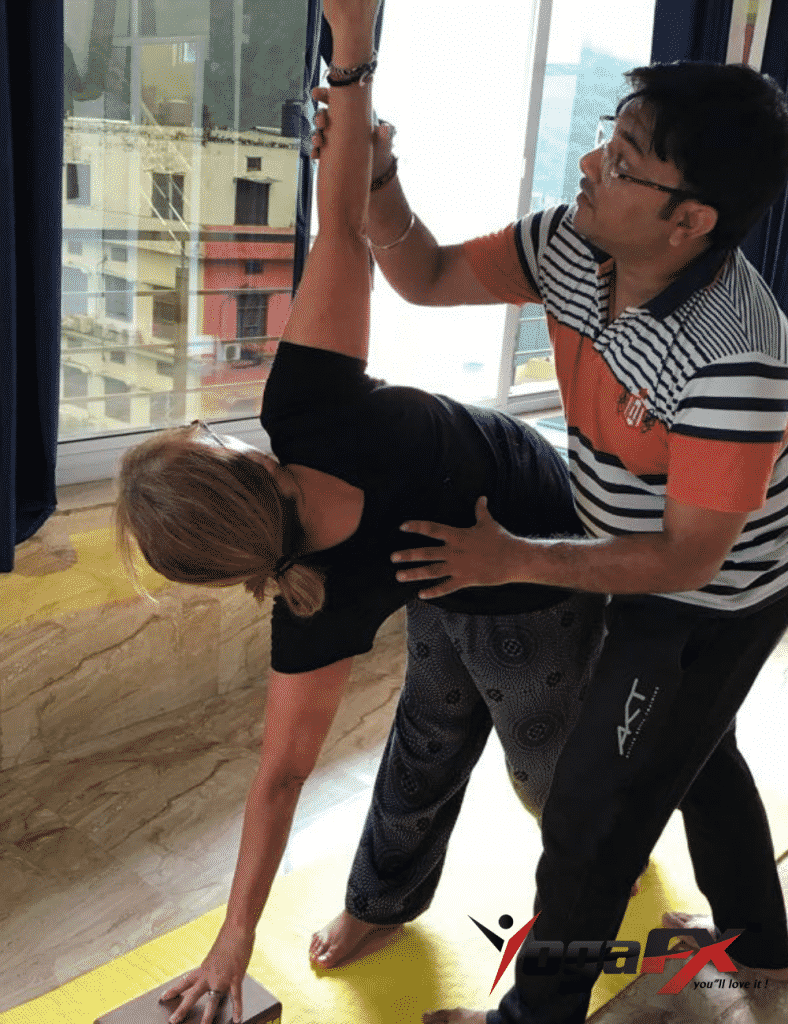 A counterpose involves moving the body in the opposite direction of the previous pose. Therefore releasing movements that were held in the previous pose, and creating balance in the body.
During your RYT 200 Hours YogaFX Yoga Teacher Training Course in Bali, we will teach you the world's most popular yoga series.
THESE TWO YOGA SERIES, as with all the Hatha yoga series are extremely similar in nature. They are all Hatha derived and have many posture duplications.
YogaFX RYT 200 Hours in Ubud, takes the most popular yoga poses, teaches you our yoga student the sequences, along with the correct dialogue for each posture.
From this solid foundation, you can add, take out, move around postures safely, because of your confidence in teaching. Complete knowledge of each posture and a great understanding of class flow is our teaching priority.
With this in mind…
…a good yoga sequence will have a very positive effect on your students?‍♀️
TO HAVE GOOD KNOWLEDGE of yoga sequences, is massively important for your yoga teaching, regardless of what kind of yoga style you will teach.
It is very important that early in your yoga teaching career that you have full knowledge of a complete yoga series.
This yoga sequence is to be your "go-to" yoga series, from which, with more confidence and experience, everything else will follow.
Yoga Teaching Is A Process!
We are only ever at the beginning and like nature cannot be rushed
Your YOGA SEQUENCES should be well rounded, well thought through, dialogue complete, and most importantly well-practiced, before you ever think about presenting it to your students.
There is nothing worse than being in a yoga class when the teacher starts having to think about "WHAT'S NEXT".
Here are the Top 5 Yoga Sequences Tips!
1. A well-rounded yoga sequence
Should include all of the various groups of poses. Focusing your sequence should be focusing on equal parts of strength, flexibility, and balance. Moving the spine in all directions (flexion, extension, side bending, and twists).
During your Yoga Alliance credentialed 200 Hours Yoga Teacher Training course in Bali, with YogaFX International Yoga Teaching Academy you will learn the world's most popular yoga sequences.
A well-rounded balanced sequence will include opening, warm-up pranayama's. Standing poses, balancing poses, inversions. Backbends, twists, forward folds, floor series. Spine strengthening and closing postures ending with Savasana.
as your confidence experience improves?
You will easily be able to replace one pose for another in the same category and to keep things simple yet interesting.
2. Building your class around a posture
Picking a more difficult posture to build up such as Camel or Triangle, is a fun and creative way to sequence your class. Most of your yoga students will have a favorite posture, and a not so favorite posture, just like you do.
Once you've picked your pose, consider how you can guide your class to it. Of course, remember to incorporate counterposes in the cool down before final relaxation.
3. Anatomical Focus
Focusing on a particular area of the body for example whether the hips, backward bends, forward bending, shoulders, hamstrings, is a pleasant and effective way to plan a class that students will love.
Change the anatomical focus each week to build a complete Yoga class series
At YogaFX Yoga Teacher Training we will guide you through this exact technique
4.Teaching sequence actions
During your yoga class pick one or two key sequence actions to drive home each class. This will not only help you determine the poses in your sequence but also BECOME MORE CREATIVE with your delivery.
5. Theme, or Bhavana your yoga sequence.
Choose a theme or Bhavana (feeling) to sequence your class around, incorporating groups of poses that help your students embody and experience the feeling, you're imparting.
For example, your theme could be "BUILDING YOUR OWN STRENGTH" and then you have your students hold Warrior poses.
Themes are endless safety comes first
As you can see from the above, yoga sequences take a lot of thought and preparation. It really isn't anything that you should be worrying about during the early years of your yoga teaching career.
At Yoga

FX

Teacher Training, we will guide you through all of the above techniques
We will clearly demonstrate to you, that as you become a great yoga teacher you will become more aware. You will come to realize that you do not actually have to change your GO TO yoga sequence that we will teach you.?
As included within your foundation sequence, each posture has its very own mini yoga class.
Remember an average yoga class is 60 mins ⏰
How many yoga postures can you actually safely complete during 60 mins, along with Savasana?
YogaFX Yoga Teaching Academy will take you through a yoga sequence one step at a time.
DO NOT WORRY about yoga sequences at this stage of your yoga teaching career. What is very important is that you learn a complete, popular yoga sequence, along with the correct dialogue.?
For More FAQs and Our June Main Event CLICK HERE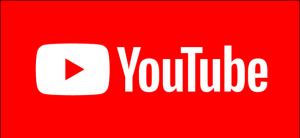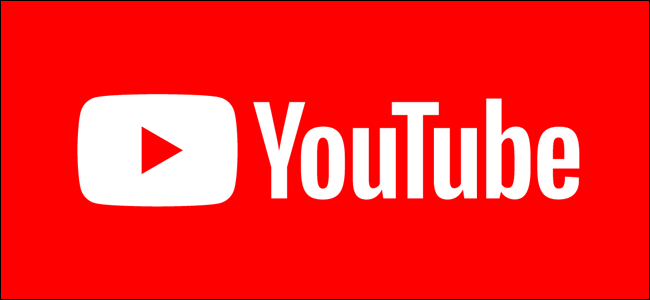 It's better to regret something that you did Than to regret something that you did not!
EXCLUSIVE