Yoga

FX

International Yoga Teacher Training Academy Special Event.
Just Imagine…Teach yoga, and get into the best mental and physical shape of your life.
There has never been a better time to put your future squarely in your own hands and master this valuable new yoga teaching skill set that will be forever in demand, from now until you retire, if you retire.
And not just because your yoga teacher training course in Bali is an excellent opportunity to learn a fun, and life transforming new skill. Or that your new status can free up your lifestyle enough, that you are able to live atruly fulfilling life
WHY NOT TURN EVERY DAY FROM HERE IN TO AN EXCITING ADVENTURE?
START DATE: Monday 8th June 2020
FINISH DATE:

Friday 26th June 2020
LOCATION:

   Seminyak Bali
PRICE:

           From $1999
ACCOMODATION:

Included
Yoga Alliance Certified RYT 200 Hours
Inquiry Hotline+628113888330
Meet Our YogaFX-Internationally-Experience Yoga Teaching Faculty

Dr Sumit Sharma (Rishikesh)
is a dynamic and charismatic Anatomy and Physiology Teacher who has taught hundreds of students from over 35 countries as part of 200 hours and 300 hours Yoga Teacher Training's in Rishikesh, across India and Bali Indonesia.
He manages to lift anatomy training's off the pages of books and MAKES IT COME ALIVE in the classroom, specialty devised and specific for Yoga Teachers and Yoga Practitioners. To read more about the Doc and watch his video Please CLICK HERE
Ms. Kartika Alexandra Maja Healing Holistic Wellness Space
Is a practicing hypnotherapist who has been practicing hypnotherapy for the last 6 years here in Bali and around the world.
Her background is in Psychology though after she completed her BA, she decided not to pursue higher studies in psychology because she did not find it comprehensive enough in understanding the mind, the body and the whole human being, why it would take years to overcome anxiety, depression and other issues. 
To read more about Ms Kartika and watch the video Please CLICK HERE
Irena Bartolec Internationally Experienced Yoga Teacher Trainer

Irena is an Authorised KPJAYI Yoga Teacher and Head of the Ashtanga Yoga Mysore Program at The Seminyak Yoga Shala in Bali, Indonesia. 
Irena has 15 YEARS OF EXTENSIVE YOGA TEACHING and work experience in the field of yoga. In 2004 Irena opened Yoga studio in her hometown of Zagreb, Croatia and visits Europe two months every year conducting workshops and yoga teaching.
She has operated and taught at her studio for 10 years, establishing a traditional Ashtanga and Vinyasa program in a rapidly growing yoga community.
YogaFX July 1st Event Syllabus Include the following
🔴 2 Yoga Classes per day which include a morning hatha yoga class with real yoga students while the same time getting detailed knowledge of yoga class set up, opening series, standing series, floor series and yoga class closing sequence. 
Our afternoon class is Led Astanga, Vinyasa and Astanga Mysore class once your strength, balance and confidence start to shine through.
🔵 Extensive Yoga Posture Clinics which include detailed methodology of Anatomy Physiology and Posture Alignment of the World-Most-Popular Yoga sequence.
🔴 Comprehensive Yoga Class Teaching Dialogue Keywords. Knowing what to say, When to say it, How to say it knowing how to enter the posture, demonstrate the posture and exit the posture in a safe controlled methodical and knowledgeable way is extremely important for your yoga teaching career.
🔵 Yoga Theater Lectures Topics covered include Base or Foundation of Poses, Skeletal System, Muscular System, Respiratory System (The Breath Connection), Neuro-Muscular Coordination plus much much more.
🔴 Actual Teaching Experience. During your Yoga

FX

RYT 200 Hours Yoga Teacher Training course in Bali you will have many many opportunities to teach your first yoga class to a real yoga studio full of supportive, loving, enthusiastic yoga students.
🔵 Live Yoga Events with Balinese Locals during your time with us in July you will have the opportunity to teach first hand at a LIVE Local Balinese Community Yoga Event. Join us in our wonderful outdoor Yoga Shala, surrounded by rice fields and the beautiful calming soft breeze.
Our last event have over 100 Local Balinese Yoga student.
Our Five Star Yoga Teacher Training Venue
Include the following… A 5 Star Yoga Studio Overlooking a 25m Swimming Pool and Palm Trees. The main features include…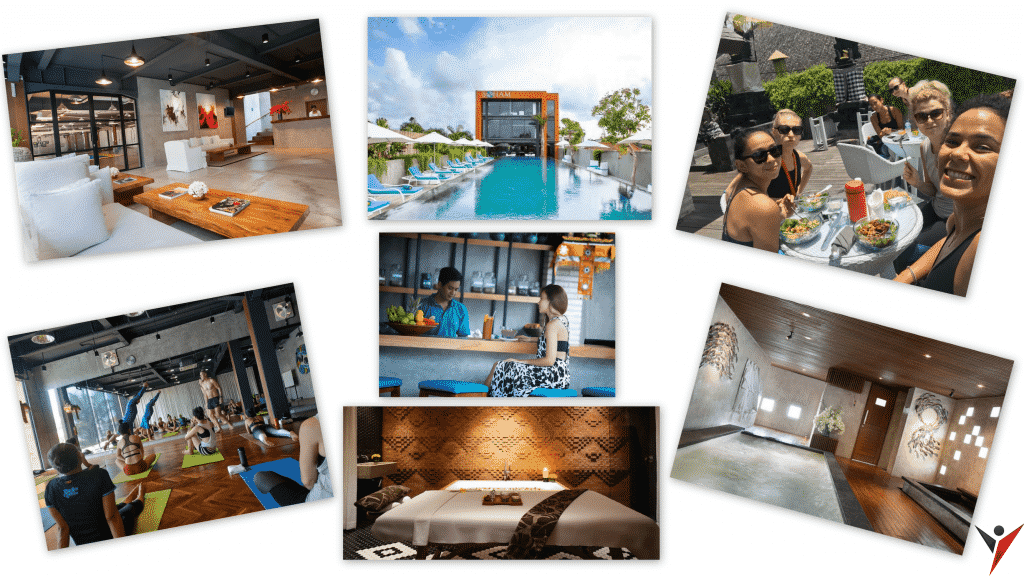 🇹🇩 Sauna
🇹🇼 Swimming Pool
🇺🇸 Steam
🇹🇬 Massage Facility
🇺🇬 Organic Juice Bar
All of these benefits at our 5 Star facility are included in your Yoga

FX

Teacher Training Course in Bali
Our Graduation Event is one where you will receive not 1 but TWO Internationally Accreditated Yoga Teaching Certificates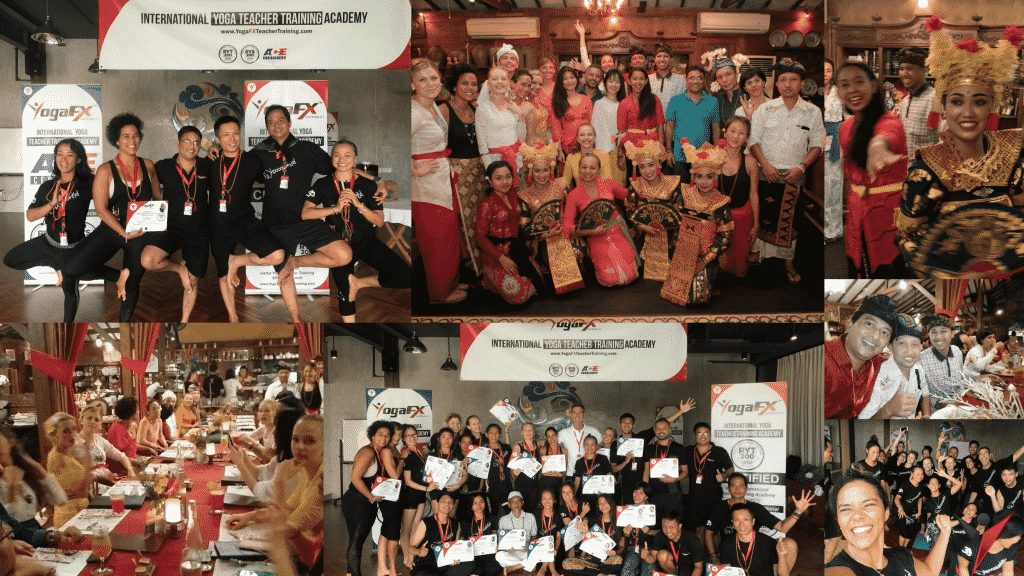 "This all sound fantastic but what do our students say?"
What Do Our YogaFX Students Say?
5 STAR REVIEWS 🌟🌟🌟🌟🌟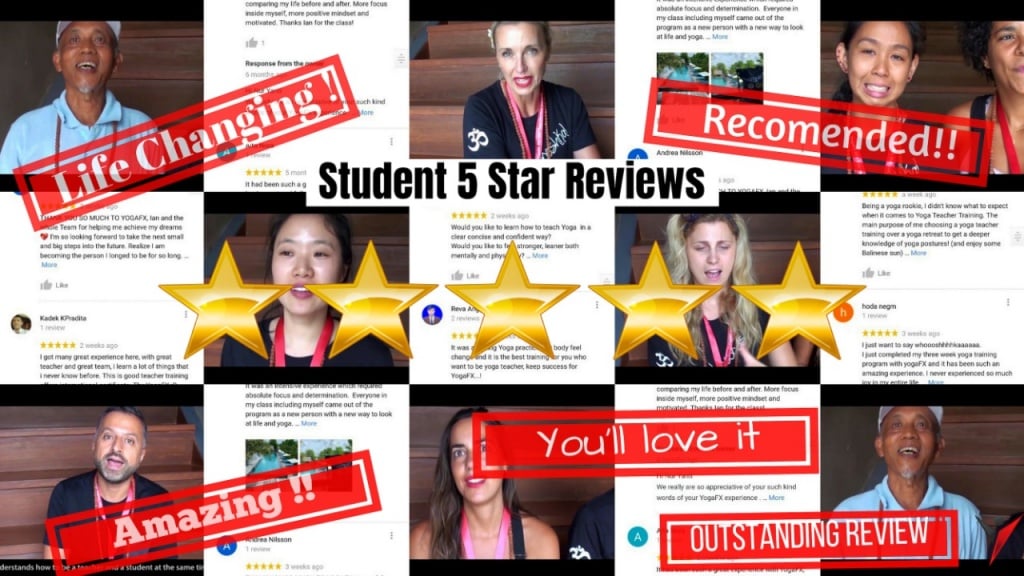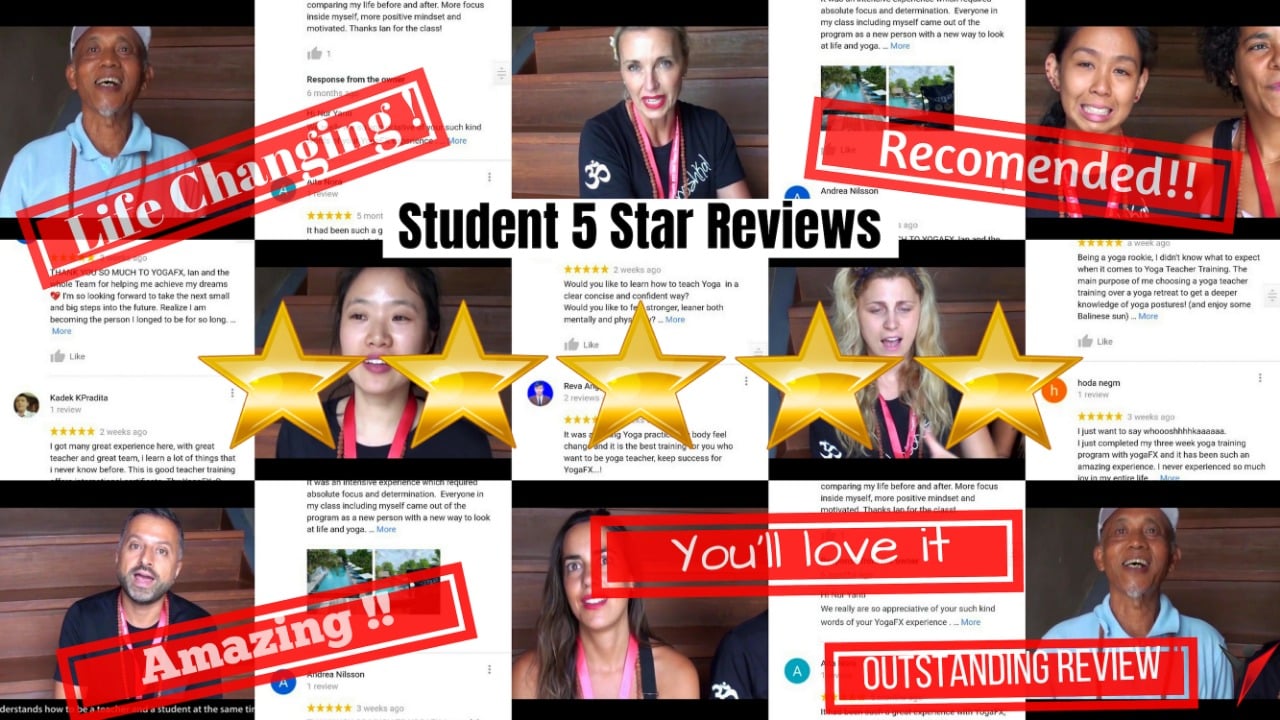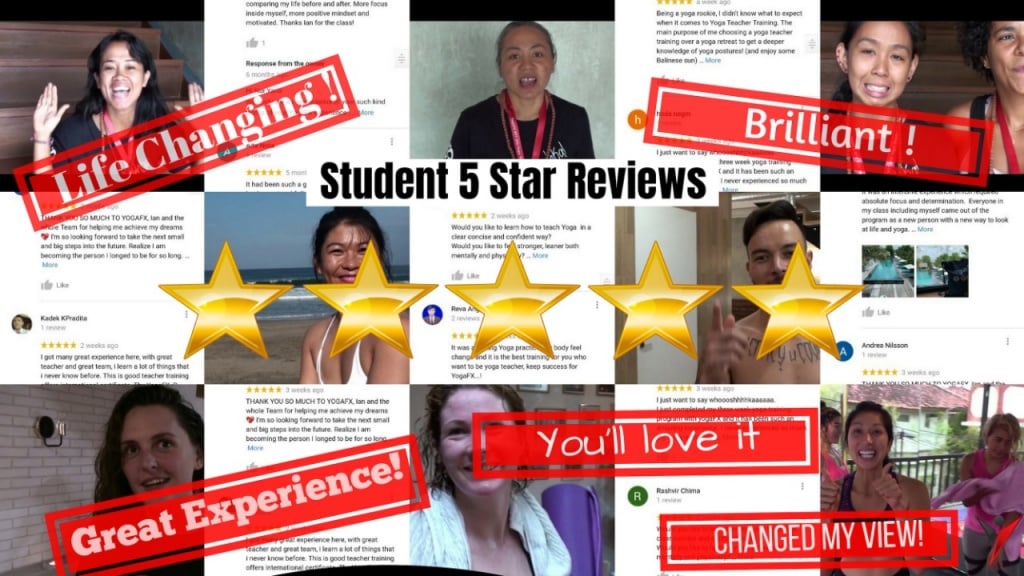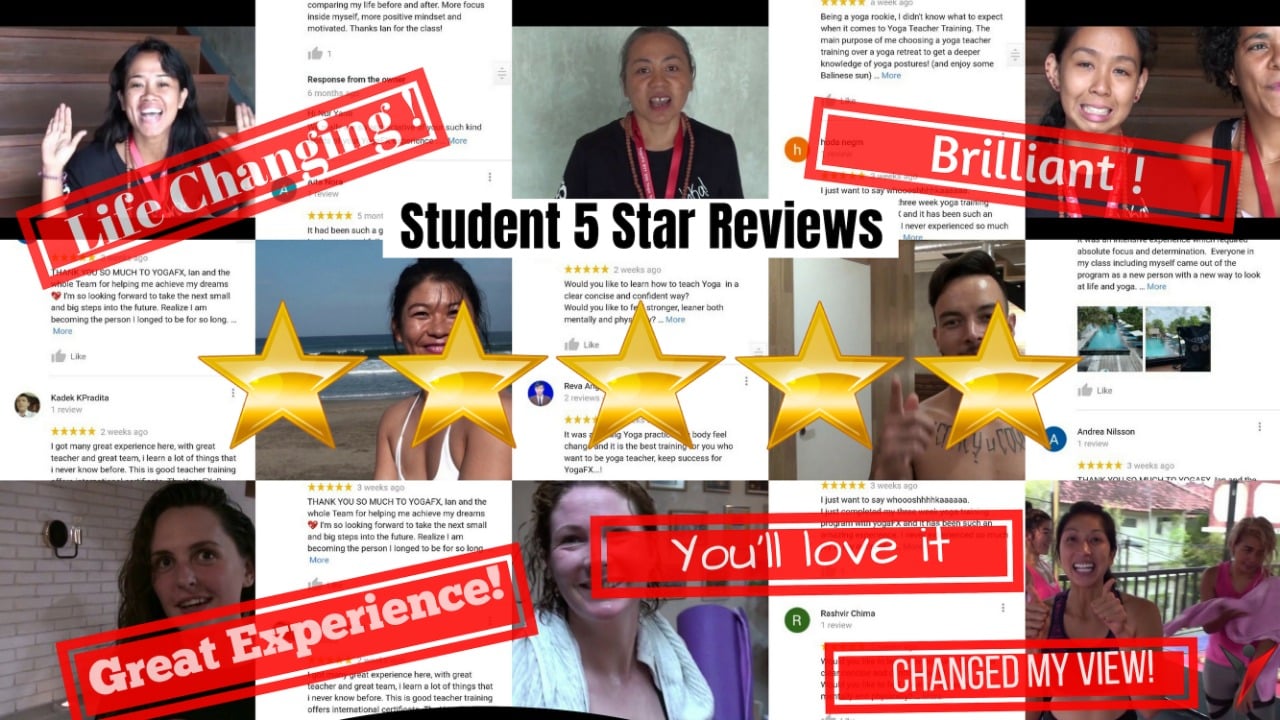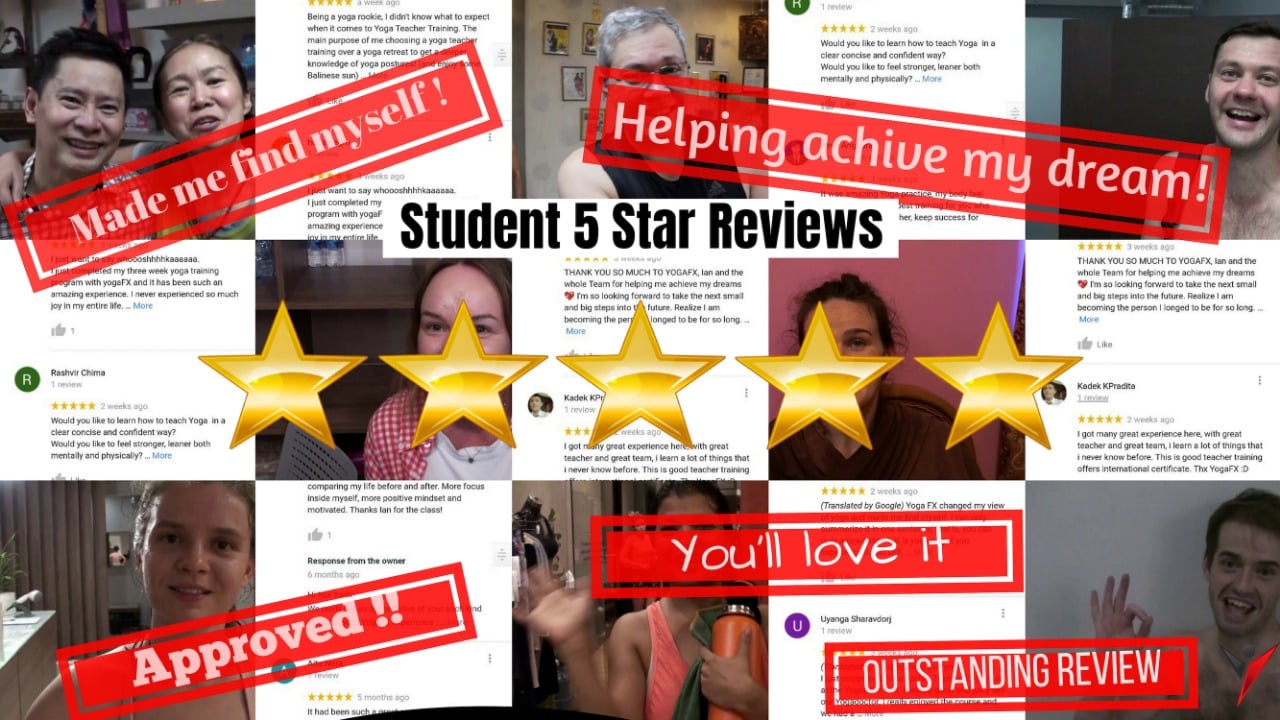 Yoga Teacher Training Bali | Yoga
FX

Graduate The World's Greatest Yoga Teachers For The World's Best-$1999 Value-For-Money-Price | YA Certified – Inquire Now.
Inquiry Hotline+628113888330
There are LIMITED NUMBERS AVAILABLE for this fully inclusive RYT 200 Hours Yoga teacher Training in Bali.