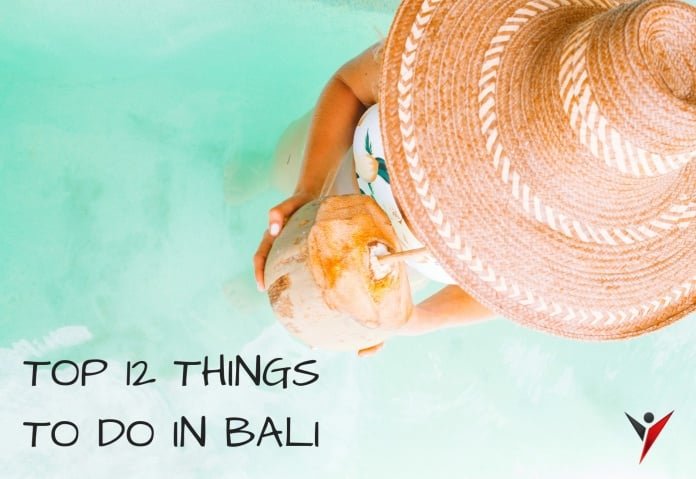 The impetuous waves, enchanted rainforests, sacred volcanic peaks, emerald rice terraces, and the timeless tradition and spirituality.
Sounds pretty epic, right? You can experience it all on the magical island of Bali! Check out the TOP 13 THINGS TO DO IN BALI and get ready to be spoiled for choice on this dreamy Indonesian island.☀
1. Tanah Lot Temple
Tabanan Tanah Lot must be the island's most iconic temple. This temple is perched on top of a huge rock and surrounded by the sea, with waves constantly crashing on its base.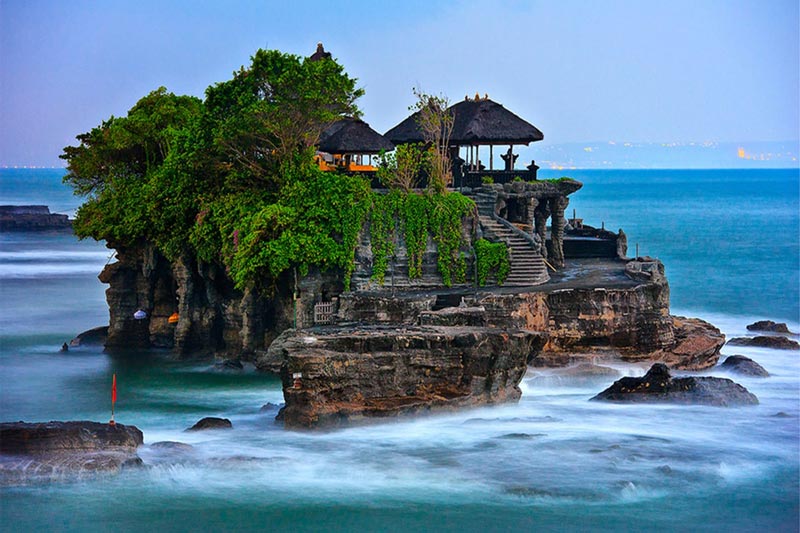 As among Bali's most important sea temples, Tanah Lot pays homage to the sea's guardian spirits.
The temple serves as foreground to the most picturesque sunsets?
2. Take a cooking class at Bumbu Bali
Bumbu Bali is one of the island's most famous restaurants and is owned by Heinz von Holzen.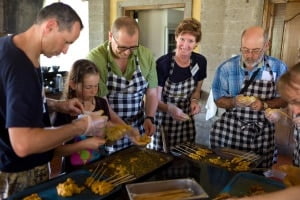 The restaurant also runs cooking classes, including a morning trip to a local market to learn all about local Balinese ingredients. You can then come back to the restaurant kitchens and cook up a spectacular traditional Balinese meal.
The lesson ends with a communal lunch, and you will get a certificate of participation as a memento of your class
3. Bathe in the sacred waters of Tirta Empul
You may recognize Tirta Empul, which was…
…used as a location in the film Eat Pray Love which featured Julia Roberts❤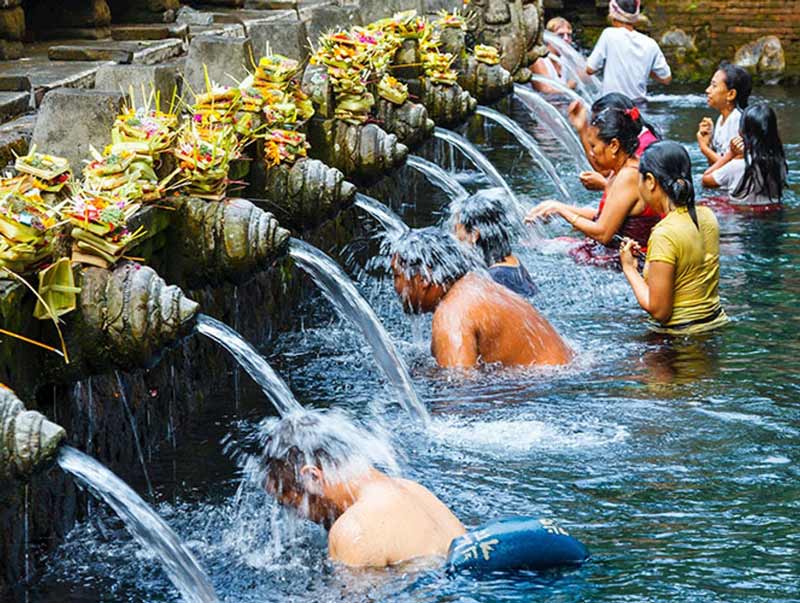 This temple complex sits just outside of Ubud and is made up of several pools which are filled by fountains. The waters here are sacred, and Hindus from all over Bali come here to bathe.
Anyone can swim in the waters, or you can walk around the complex and check out the pretty architecture and plethora of ornate statues.
4. Go muck diving in Padang Bai
Padang Bai is in the east of Bali and is most famous for its diving.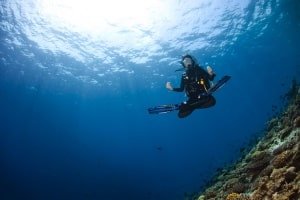 You can reach seven different dive sites after a short boat trip from the shore. Whatever your diving experience is, there is something for everyone here.
You can get PADI certified, and if you like muck diving, this is one of the best places to do it in Bali. You will find a range of underwater critters like the blue-ringed octopus and pygmy seahorses.
There is also a good chance of seeing sharks turtles and waving fans and coral gardens??
5. Marvel at Uluwatu Temple
Uluwatu Temple is arguably one of Bali's most famous sights and stands 70 meters above the sea.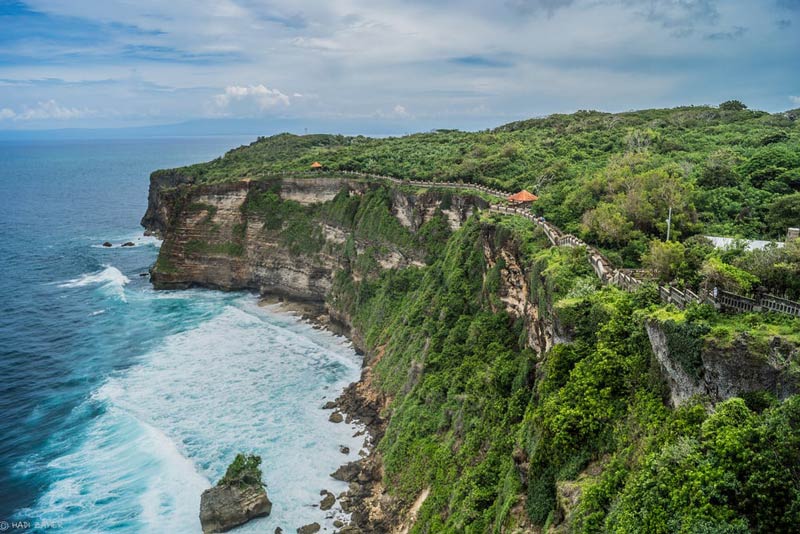 The temple was constructed on the side of a cliff overlooking the raging waters below. If you want truly spectacular views and ornate architecture, then make sure not to miss this off the itinerary.
The temple is known for its monkey population, and you can also catch a range of shows here, such as famous Balinese dances. If possible, try to go in the evening so that you can catch the sunset here.
6. Spend time with the monkeys at Monkey Forest
Monkey Forest is a Hindu temple complex in Ubud and also one of its main attractions.
The complex is full of over 500 monkeys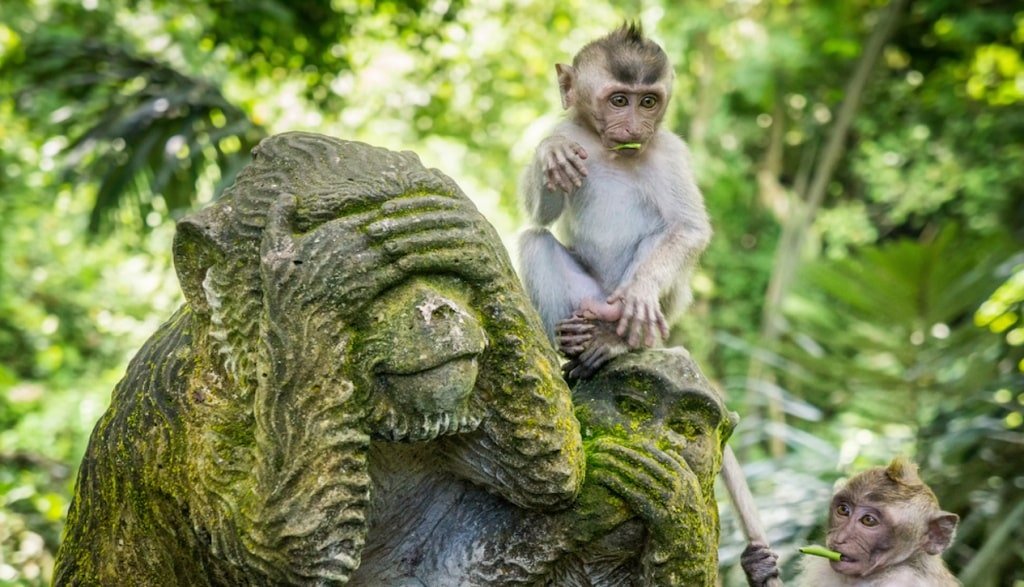 The entire area is a nature reserve, and you can walk around and take in the scenery and take photographs of the monkeys.
You can buy bananas to feed the primates from the main entrance but beware if you have anything else on you like sunglasses or water bottles; the monkeys have been known to grab what they can from visitors.?
7. Potato Head Beach Club
One of the best bars in Bali, Potato Head Beach Club. Imagine entering a modern Coliseum through an elliptical corridor. And then, right in front of you, a green-grass amphitheater overlooking an infinity pool merging with the blue ocean.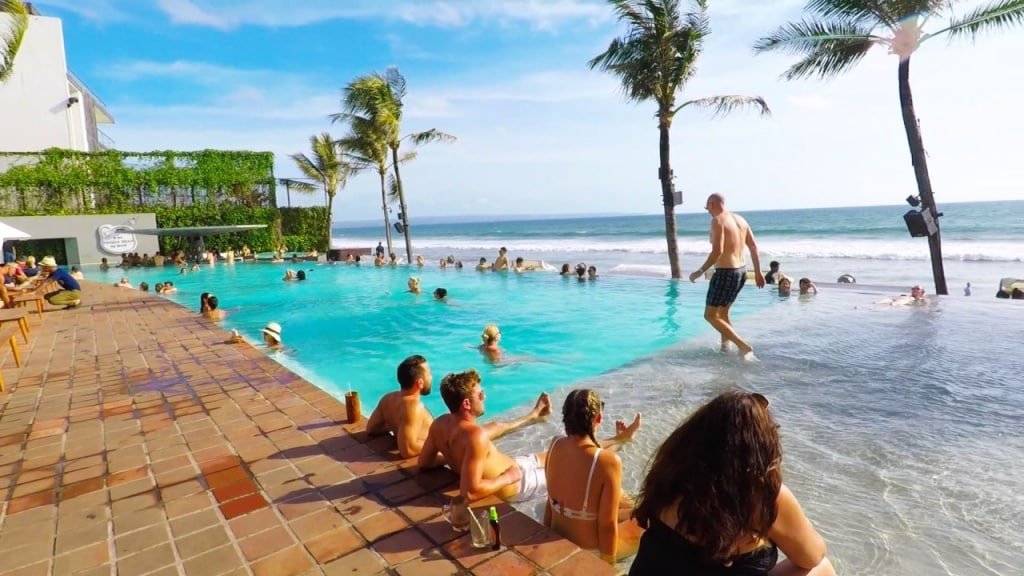 That's Potato Head Beach Club, opened in 2010 in Seminyak and designed by the world-class famous architect Andra Matin. Another perfect sunset spot, topped up by signature cocktails and mouthwatering tapas. Some pretty epic DJs have played here too, so if you're keen for a dance, DO COME HERE.? 
8. Tegalalang Rice Terrace
The postcard-worthy scenery of delicate rice terraces surrounded by lush palm trees and tropical greeneries makes Tegalalang a visually appealing sight to behold.
But exotic beauty is only part of this attraction's charms✨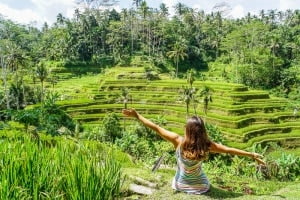 Ubud's rice terraces are purposefully built to facilitate effective water resources and organize local social units.
In other words, these glorious rice terraces do not only attract tourists from across the globe; they actually bring people together and reflect the values and philosophy of the Balinese culture.
Tourists can also explore the villages nearby to hear fascinating local stories and observe the custom and lifestyle of people who built and maintain the glorious rice terraces.
9. Feast on seafood in Sanur
Sanur is a sleepy seaside town that can feel miles away from busier areas like Kuta. The big draw here is the main strip of beach, which is flanked by a long pavement so you can walk along the shoreline and check out the views and stop for a bite to eat.
Sanur is famous for its seafood restaurants ?
One of the best things to do in the evenings is to go for a wander and stop when you see something that looks good.
The food here is grilled over coconut husks for a wonderful smoky flavor and served with rice and chili sauce.
10. Watch Traditional Bali Dance Kecak in Ubud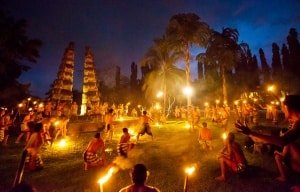 Balinese dance is a century-old tradition and core element of the local culture, religious belief, and day-to-day life. According to the traditions, there are several types of dance, including aspects of trance and possession.
If you want to see one of the most famous, head to Ubud's town and go to the Ubud palace to watch the Ramayana ballet.
11. Go surfing at one of Bali's beautiful beaches
Even if you are not a surfer, you cannot possibly leave Bali WITHOUT TRYING TO RIDE A WAVE. Head to Seminyak or Canggu beach. Rent a board from one of the many rental places and ask the owner to give you a lesson.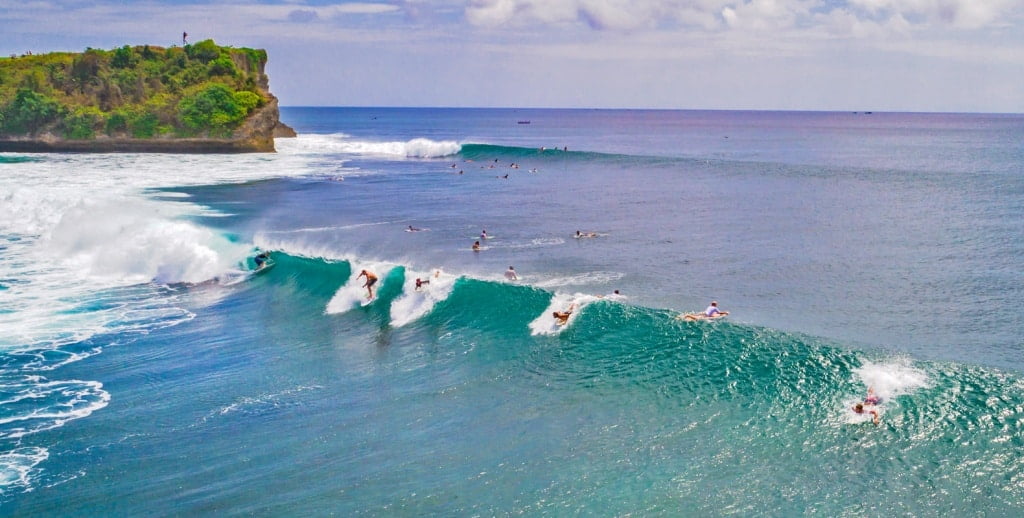 You'll feel so alive in so many ways?
If you are a pro, Uluwatu is the place to be; the best swell and surfers bars are found there.
12. Visit a spa
Bali is popular for its spa experiences, which blend traditional local ingredients and centuries-old techniques that will leave you relaxed and rejuvenated.
One of the most amazing of all Bali's spas is The Spa and The Edge Hotel, which is located in Pecatu and sits on the side of a cliff.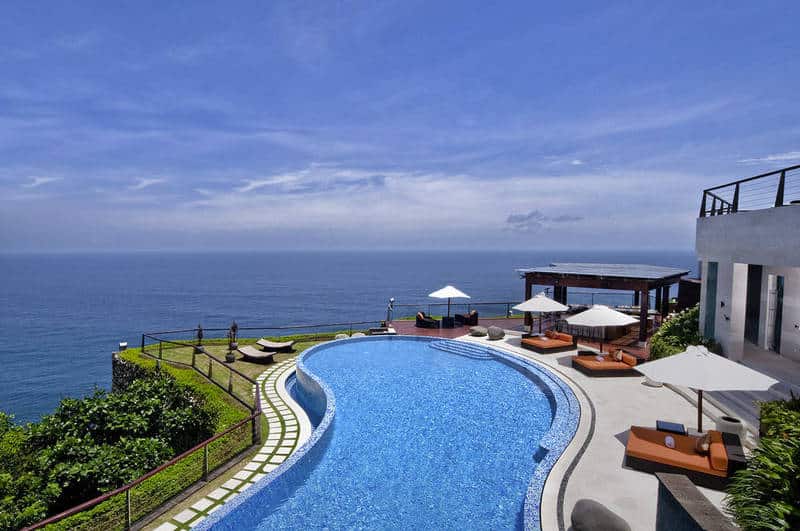 This means that you get views over the water and look over a sheer drop down the cliffside. The packages here mix flowers, rice, and holy water for one of the island's best spa experiences.
13. Horseback Riding at Seminyak Beach
Another way to enjoy Bali's beautiful scenery is to try horseback riding along the southern beaches and through the lush rice terraces of Kerobokan for a few hours – accompanied all the way by a professional guide who will put your comfort and safety first.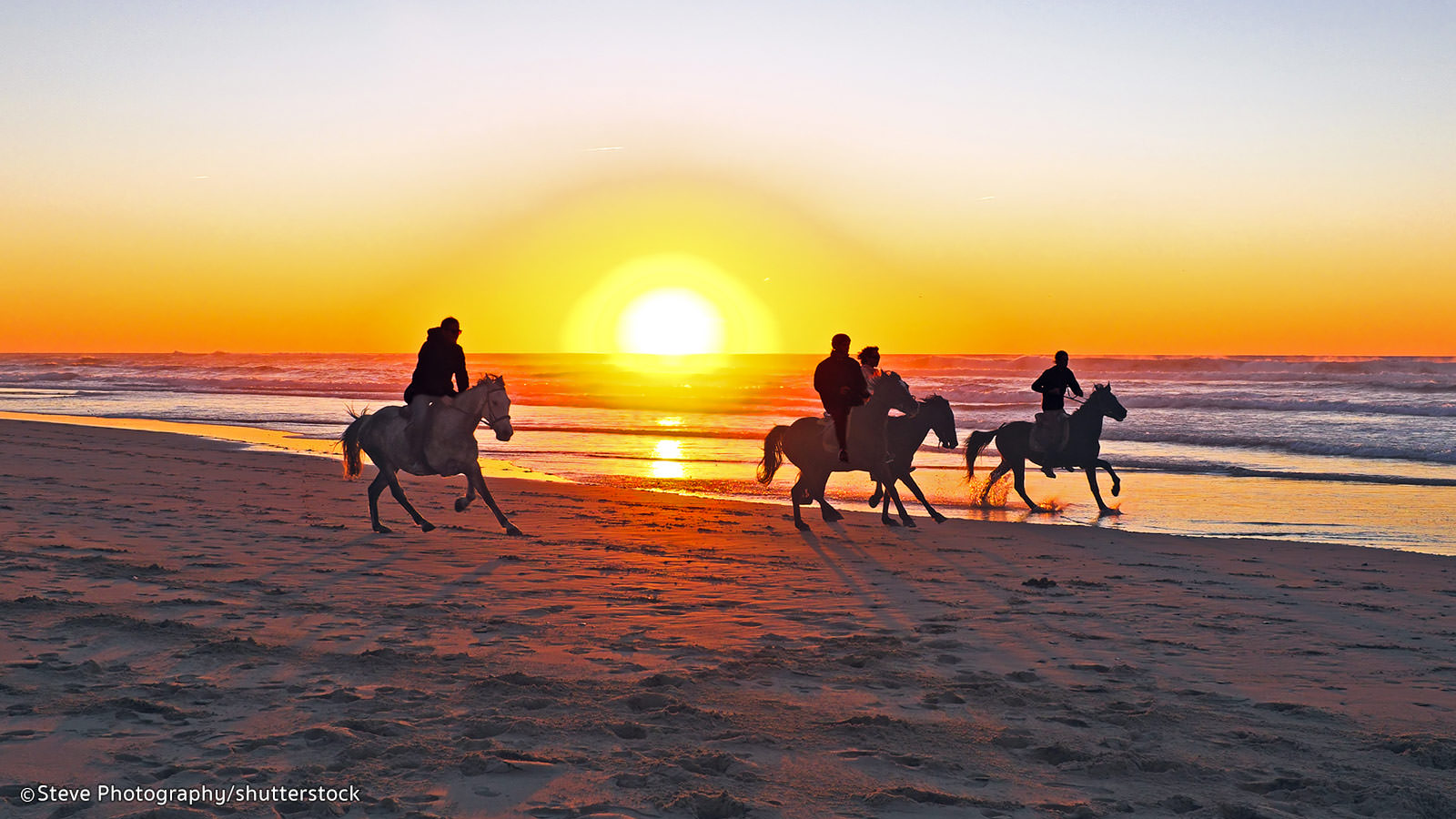 Bali's horseback riding is a fun and exciting way to enjoy the island's outback – from paddy trails to quiet stretches of sandy coastlines – all from the saddle of a horse. Seminyak Beach is a beautiful white sandy beach stretch 3 km from Tuban area with a stunning view of the Indian Ocean suitable for horse riding.
You need a break once in a while to enjoy every day.
CLICK HERE For More Course Inclusions and Our June Main Event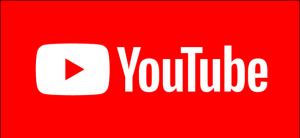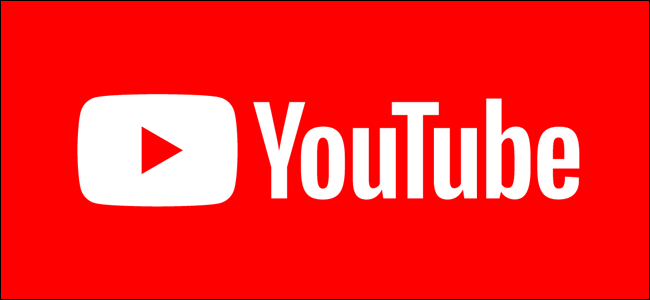 References:

http://www.bali-indonesia.com/attractions/top-ten.htm
EXCLUSIVE